Wednesday, March 25, 2020 | Sacramento, CA | Permalink
There was a steady whir of construction on Monday at the Folsom Ranch subdivision, where about 40 workers sawed lumber, applied stucco, hauled mulch and added other final touches to new homes near Highway 50.
Contractors supplied workers more soap and hand sanitizer and asked crews to wash their hands multiple times a day.
"Social distancing. We've really preached that. Washing their hands throughout the day. Being mindful of everything that you're doing," said John Hedge, the general superintendent with framing contractor Timberworks construction, who oversees 41 job sites in the Sacramento area.
California's stay-at-home order has forced the closure of thousands of businesses, from shops to restaurants to entertainment venues, all to slow the coronavirus outbreak. But one sector — construction — remains open, which industry officials say is still essential to fighting a different crisis: California's housing shortage.
Last week, Gov. Gavin Newsom designated construction as an essential service that builds "critical infrastructure" in the state.
Dan Dunmoyer, president and CEO of the California Building Industry, said that allows workers to continue building homes and other projects.
"You have hundreds of thousands of families that will have a paycheck and will continue to be able to bring in groceries, pay rent and not get behind," Dunmoyer said.
As of January, the construction industry employed nearly 890,000 workers statewide, according to figures from the California Employment Development Department. Thousands more work in businesses tied to construction, from mortgage lenders to real estate agents.
But workers are adjusting to new safety protocols. To prevent the spread of COVID-19, builders say they are asking workers to stay six feet apart, not share tools and to avoid eating together.
Chris Schackner is foreman for Fletcher Plumbing in Loomis. He said each of his workers has been issued their own tools.
"I wouldn't say they're any more concerned than anybody else out here," Schackner said of his crew. "They all want to work, they all have families to feed. They all want to buy their own houses one day."
Newsom exempted workers from several more industries from last week's stay-at-home mandate. Those include farm workers, those in the energy industry, transportation, logistics, manufacturing, communications and information technology, among many others. Building officials said keeping construction sites open is critical to addressing the state's dearth of available homes.
Dealing with the outbreak "makes it certainly more challenging," said Aren Bazzocco, Sacramento division president for home builder Taylor Morrison. "But people are still out shopping for houses, which tells me there's still a need for homes. And the housing crisis that we've had over the last decade has not gone away."
During his run for governor, Newsom pledged to help build 3.5 million new housing units in the state by 2025. Housing production, however, declined during his first year in office and the governor has backed away from his specific target.
If the outbreak continues for a long period, some expect California's housing market will suffer.
On March 11, the California Association of Realtors revised downward its forecast for the housing market, saying "based upon our current expectations for the trajectory of the virus, the revisions will be modest unless the outbreak accelerates beyond current expectations."
A week later, CAR surveyed its Realtors and found 78 percent "expect there will be a negative impact on home sales, up from 53 percent last week."
Despite all the concerns, Hedge, the framing superintendent, said his crews will continue showing up to work.
"We are essential," he said. "It's a necessity. We've been in a shortage in this state for a long time. And we're not even close to getting out of it.
Construction Industry Stays Open Amid Virus Outbreak To Combat A Different Crisis: California's Housing Shortage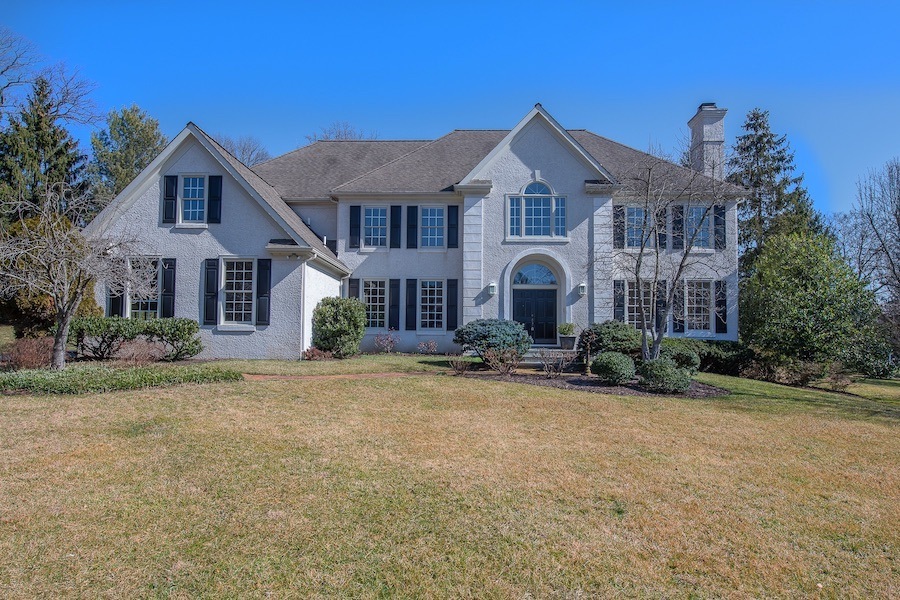 Is this handsome neo-Colonial a McMansion? Not really. It's located at 501 Van Lears Run, Villanova, Pa. 19085 | All photos: Dave Ocenas; this photo: via the Damon Michels Team, BHHS Fox & Roach Realtors; all others: Bright MLS images via BHHS Fox & Roach Realtors
Some of you who follow this department, no doubt, are fans of the popular architectural-criticism blog "McMansion Hell." Every other week, its classically-trained author teaches us the basic principles of traditional architecture and then hilariously skewers the ways modern house builders and (alleged) architects run roughshod over all of them while turning out luxurious homes. (If you're not familiar with what a "McMansion" is, or what distinguishes it from an actual mansion, I recommend you read McMansion Hell's primer of posts on the subject.)
Personally speaking, if I never see another nested gable again, I won't shed a tear, and I will admit that what McMansion Hell calls the "lawyer foyer" often fails to impress, though I have seen some Gone with the Wind-quality renditions of this in several recently built houses.
Why do I bring all this up in introducing this early 1990s neo-Colonial Revival house for sale in Villanova? Because it has some of the elements of a McMansion yet avoids falling into the abyss.
For starters, there's the exterior. It's actually well-proportioned, balanced and symmetrical, with only the side wing containing the garage, mud room, laundry and breakfast room throwing it off that perfect Georgian center. Its roof is a little more steeply pitched than those of many Colonials, but not so much so as to overpower the rest of the house.
Bristol-based King Lifting has consolidated its heavy-lift credentials by taking delivery of a third 500-tonne Liebherr all terrain crane.
The eight-axle LTM 1500-8.1 has a seven-section 84-metre telescopic main boom, 165 tonnes of counterweight and a 91-metre fixed fly. It can lift to a height of 142 meters and out to a radius of 108 metres.
The new crane joins a King Lifting fleet that already has 22 Liebherrs, including two others of this size.
King Lifting heavy cranes director Steve Wathen said: "We are delighted to take delivery of our third LTM1500-8.1 mobile all terrain crane. The addition of this crane type demonstrates our commitment to our clients across the UK to further strengthen our levels of service and availability. Our heavy crane department has grown significantly over the past three years and we thank our clients for their continued support. This purchase further strengthens King Lifting's position within the UK heavy crane rental sector."
[wpramazon asin="B0796QY55Y"]
[wpramazon asin="B00D3OJD62″]